The Colour of War
Today began with an explosion by the bus stop.
Everything that is being brought in here is red. First, the red is sorted. From very red to a little bit red. Very red is easy, very red is dead. But you still have to check that mountain of piled-up flesh. There could still be something alive in there.
If there's life, a card is hung around the neck. A white card. In contrast to the post-its on the corpses – the post-its are light yellow. The colour doesn't mean anything. It could just as well have been the other way round.
A number is put on the white cards. We write next to it what has to be done. Amputation, stitches, that sort of thing. After that they have to wait.
Not all of them want to. Some find themselves more important than their number.
Those in most pain are often the most patient. Or they're in too much pain to protest.
The noise...
The banging on the iron gates. From family members who want to know. If their son or mother is lying in the pile of flesh. How many limbs they still have left. When, for God's sake, they will be helped.
I smoke a cigarette. In the canteen. Where everything is blue. Blue floor, blue walls, blue tablecloths. No red anywhere. Endless blue.
I can carry on. From one stretcher to the other. Grandfathers, children, women, men – too young to be men.
I know that what I do is good. They can get going again. Soon they'll be on their feet.
At the barre – as if they could still be ballet dancers.
On the exercise step – not with one, but with two artificial legs. There he is, my champ.
I have to be pleased with that.
The nights are the best. Then I lose myself in the soft flesh of Swedish Ana who has stood close by me the whole day long, while I rooted around in that other flesh.
I don't think about my wife then, she's just sent me a parcel. I don't think about anything then.
Until the soft groans that rise from all the beds – constantly, all night long – drown out our pleasure. The night brings no solace.
Tomorrow is another day.
Maybe a day without explosions. With only gunshot wounds.
Maybe an appendix? I'd kill for an appendix.
A bang... and an echo. Coming in.
Today will be red again.
But there's also blue.
No matter how red it gets here.
Soon there is blue.
Heavenly blue.
The Colour of War
When the Soviet Union finally signed the peace accords in April 1988 and had started to withdraw their troops in May of that same year, the second phase of the Afghan Civil War began. By February 15, 1989 when the last soldier had left, the Afghan communist government was left to fend for itself against the mujahideen. U.S. intelligence agencies were expecting the People's Democratic Party of Afghanistan regime, which had been in place since the military coup, named the SAUR Revolution, on April 27th, 1978, to collapse within three to six months. It would take three years of heavy fighting.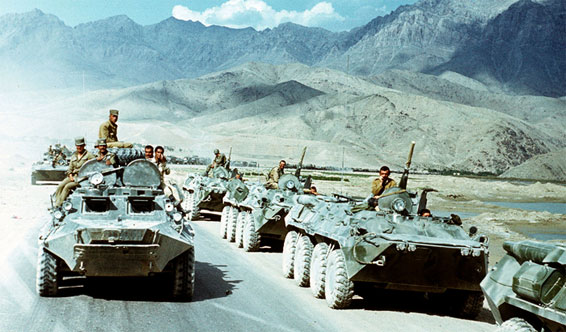 Amongst the reasons for it lasting this long were the large quantities of military hardware donated by the Soviet Union, in 1989, the army and pro-government militias still had lots of tanks, armoured personnel carriers, artillery pieces, modern fighter-bombers and attack helicopters. Also the Democratic Republic of Afghanistan continued to receive lots of financial aid from the Soviet Union, valued between two and six billion dollars a year, and Soviet military advisors were ever present in Afghanistan. And, pro-government militias were of unexpected strength. Numbering 40,000 men drawn from the Uzbek minority, they took their orders directly from president Najibullah, who used them as a strategic reserve.
On the other hand, some of the mujahideen benefited from expanded foreign military support from the United States, Saudi Arabia, Pakistan and other nations. Gulbuddin Hekmatyar, at the head of one of the mujahideen forces, was the primary beneficiary of U.S. support, because it was delivered through its middleman Pakistan. Hekmatyar was Pakistans favorite.
Because the Afghan government did not fall apart as soon as they had expected, the American and Pakistan supporters of some of the mujahideen decided to hasten its demise. They planned an operation to capture Jalalabad. And the Pakistanis intented to install a government under their favorite, Gulbuddin Hekmatyar. They desired Jalalabad as their provisional capital.
When the attack began on the 5th of March 1989, it went very well for the mujahideen at first. They captured the village of Samarkhel and the Jalalabad airfield. But government troops that started to surrender, along with unarmed civilians, were tortured and executed by Hekmatyar's and some other forces. This made the option of surrender impossible for the leftover communists who then fought even harder. Soon, the attacking forces were soon blocked by the main Afghan army positions that were protected by bunkers, barbed wire and mine fields. The government troops had lots of support of the Afghan Airforce; cluster bombs were used intensively. Scud firing batteries, deployed around Kabul and manned by Soviet troops fired many missiles in support of the Jalalabad garrison. Despite their imprecision, these weapons had a severe effect on the morale of the mujahideen, who could do nothing to prevent them.
mad Shah Massoud, located from north to central Afghanistan, controlled the strategically important Salang highway and made steady progress to capture the Bagram airbase just outside Kabul.
Hekmatyar's forces developed a reputation for attacking other resistance forces, especially those of Ahmad Shah Massoud. By 1992, Afghanistan was in dire straits. Reserves of natural gas, Afghanistan's only export, had dried out since 1989, rendering the country completely dependent on Soviet aid. By 1991, the Soviet economy was itself faltering, preventing the Soviets from fulfilling their commitments and until completely dropping their support of the Afghan government.
In January 1992, the Afghan Airforce, which had proved vital to the survival of the regime, could no longer fly any aircraft through lack of fuel. The army suffered from crippling food shortages, causing a very high desertion rate. With the end of the Soviet aid, the government could no longer satisfy weapon demands of the pro-government militias, and their loyalty began to waver.
Finally, after negotiations between the government and Ahmad Shah Massoud, the main government militia defected in April 1992 to the mujahideen.
Najibullah's regime began to collapse and soon after he resigned. On April 14, 1992 Massoud and his forces had taken Charikar and Jabalussaraj in Parwan province with only minimal fighting. At this point it was reported that Massoud had approximately 20,000 troops stationed around Kabul. Also the government's Second Division had joined Massoud. And by mid-April the Airforce command at Bagram had capitulated to Massoud as well. With no army to defend it, Kabul had become completely defenseless.
With Najibullah resigning, the way for a neutral interim government was made. A group of mujahideen generals and officials declared themselves an interim government for the purpose of handing over power to the dominant and most popular military force: General Ahmad Shah Massoud.
But Massoud was hesitant to enter Kabul and waiting for the political parties to reach a peace and power-sharing agreement first. In April 1992, with the Peshawar Accords, an interim government was formed with a Supreme Leadership Council, and a transitory presidency that was given to Sibghatullah Mojaddedi for two months, after which Burhanuddin Rabbani was to succeed him. Hekmatyar was given the post of Prime Minister, but he did not accept this position for he did not want to share power and Pakistan was urging him to take power for himself. Massoud in a recorded conversation tried to convince Hekmatyar to join the peace agreement and not to enter Kabul. But Hekmatyar replied: "We will march into Kabul with our naked sword. No one can stop us."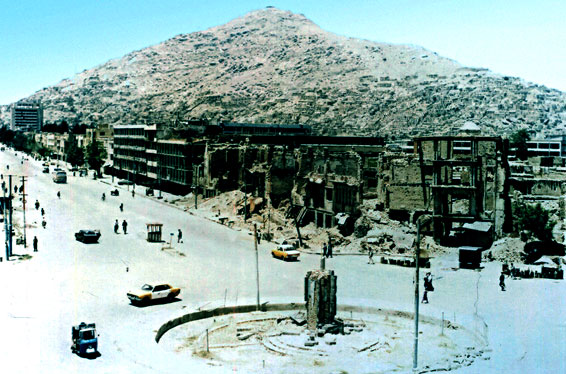 And so they did. Hekmatyar's forces began to infiltrate Kabul. This forced Massoud to advance on the capital in order to preserve the Peshawar Accords and prevent the establishment of a Hekmatyar dictatorship. The different mujahideen groups entered Kabul from different directions.
Hekmatyar's forces were far from the key points of the city like the Presidential Palace, the Prime Minister's office, Kabul International Airport, the Defense Ministry and many other important government offices. The mujahideen weren't. After suffering heavy casualties, most of Hekmatyar's forces fled out of Kabul and deserted their positions.
Kabul came completely under Islamic State control on April 30, 1992, but the situation was far from stabilized. Though Hekmatyar's forces had been driven out, they were still within artillery range, and soon started firing tens of thousands of rockets, supplied by Pakistan, into the city.
http://en.wikipedia.org/wiki/Civil_war_in_Afghanistan_(1989-1992)
http://en.wikipedia.org/wiki/Peshawar_Accord